:::
<!#--所有資料+cate tab --> <!#--detail-->
Adhesive-free backing now available on popular Altro Cantata and Altro Wood designs
Online Date: 2020/04/08
Modify Date: 2020/04/09
Source: A & E / Apr. 08, 2020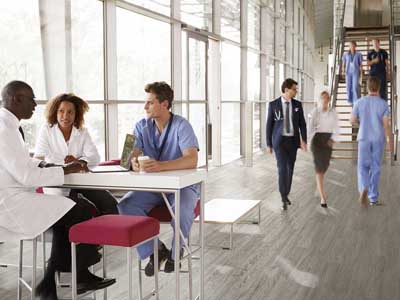 Altro Flooring and Walling announces that their most popular designs from the Altro Cantata and Altro Wood collections are now available with adhesive-free backing.
The adhesive-free backing on Altro's flooring collections enables ultra-fast installation times, ensuring a beautiful finish with no compromise on safety, durability or cleanability. Installed directly on slabs, tiles or vinyl, Altro XpressLay lays flat and stays flat. The floor is ready for use the same day as the installation, and there's no irritating odour to deal with onsite.
Altro's flooring comes with the assurance of an industry-leading 10-year guarantee; the product is also 100% recyclable.
Adhesive-free technology for ultra-fast installation
Altro's adhesive-free flooring provides a cost-saving alternative. With no DPM or adhesive required, the installation time is cut by half, compared with a traditional installation – just lay, weld and walk on the same day. In addition to reduced installation time and labour costs, there's less need for expensive equipment hire while going forward, the end-user benefits from a reduction in maintenance budgets.
Lays flat, stays flat
Altro adhesive-free vinyl flooring lays flat without an adhesive to stick it in place, so you can roll away without the floor rolling up.
Odour-free – no disruption, no complaints
The absence of adhesive eliminates post-installation odour, making it ideal for environments where people live or work. The installation can be done without shutting down shop or installing noisy extractor fans.
Best designs from Altro's most popular ranges
Altro adhesive-free flooring comes in new on-trend woods, terrazzo and concrete designs in a choice of 59 colours, providing inspirational and decorative solutions for all application areas. Altro's wood-look floor supports biophilic design, helping create a comfortable vibe to promote wellbeing in health and care environments. The concrete design option in the Altro Cantata range allows you to create an impressive urban chic look in contemporary buildings while terrazzo gives you an organic look with a metallic twist.
100% recyclable – use it, remove it, reuse it
Altro was the first manufacturer to recycle traditional safety flooring in-house, underlining their commitment to sustainability. Altro is also now the first to market with 100% recyclable and reusable flooring post-installation.
Altro's flooring contains recycled material and bio-based content; meets low VOC guidelines; does not contain phthalates; is made with bio-plasticisers; is installed using a tape system instead of adhesive; does not need to be sent to landfill; and is available with EPD and HPD declarations.
Quality guaranteed with industry-leading guarantees
Altro Cantata and Altro Wood adhesive-free flooring collections come with the same guarantees and performance you would expect from an Altro floor: a life expectancy of 15 years and a 10-year guarantee.
Altro Wood adhesive-free flooring
The new Altro Wood adhesive-free is a safe, durable and decorative flooring solution for busy spaces. Key features include 14db sound reduction; high levels of comfort underfoot; award-winning adhesive-free installation method allowing the floor to be welded and walked on the same day; and ability to reuse or recycle at end of life.
Altro Wood is recommended for busy public spaces or medium to high foot traffic areas that demand minimal disruption with no associated adhesive odours post-installation.
With 12 wood-look designs, you can create biophilic, stylish, or warm and homely aesthetics.
Altro Cantata adhesive-free flooring
A tonal and modernist adhesive-free floor that creates maximum impact with minimum downtime, Altro Cantata is also ideal for busy public spaces where disruption needs to be minimal, and there are no associated adhesive odours post-installation.
Altro's award-winning adhesive-free installation method allows the flooring to be welded and walked on the same day, and removed for reuse or recycling at end of life.
Key features also include enhanced cleanability; 14dB impact noise reduction; and comfort underfoot to help reduce fatigue.